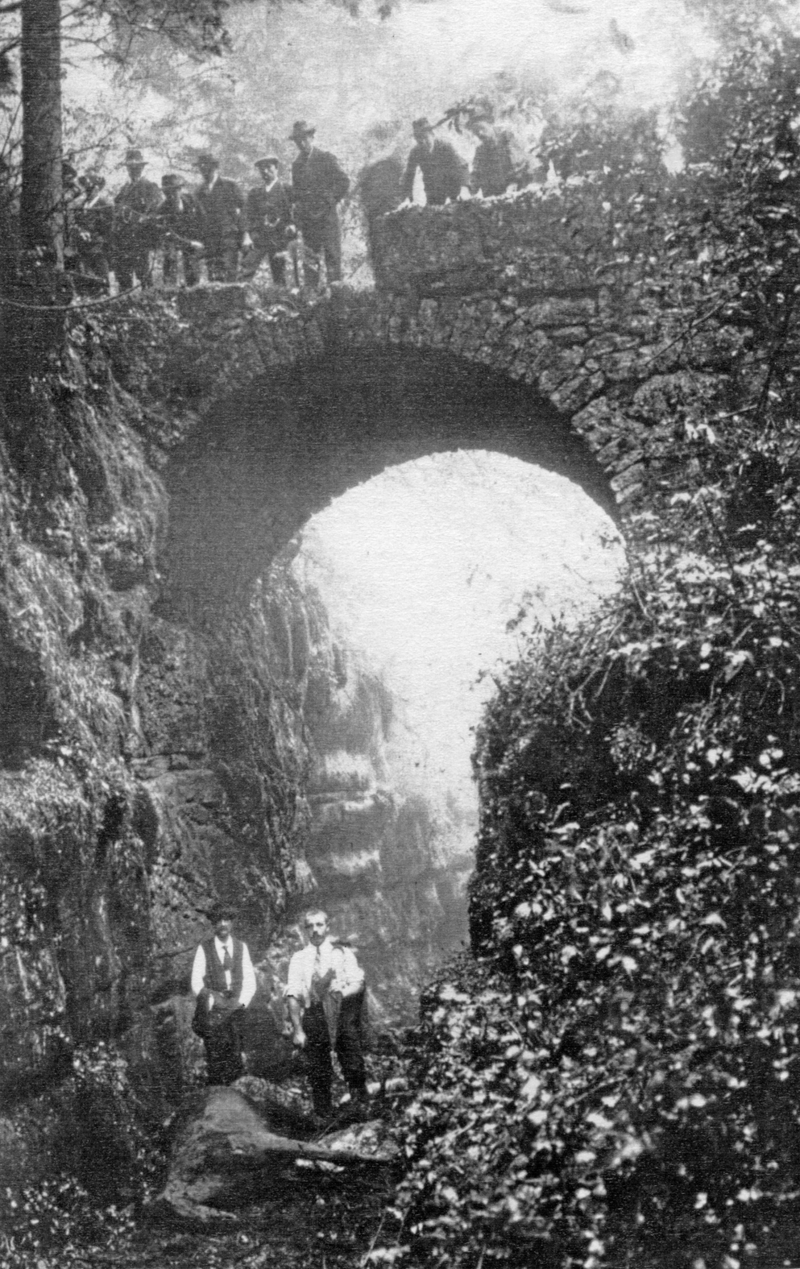 During the persecution of the Anabaptists in the Canton of Bern, many families fled to the Jura mountains in the north of Switzerland.  Gerber families from the Emmental region were included with other families taking refugee there.  They were allowed to rent land from the local landowners there, but the land was usually in the highest and least-accessible regions.  Most of it was not considered farmable.  Nevertheless, the Anabaptists used farming principles they brought with them and also became very innovative.  Very quickly, they became productive which caused some resentment with locals who disapproved of their beliefs.
The Anabaptists were not allowed to assemble except in very small numbers.  Locals tried to use government officials to try to break up their religious meetings.  So, the Anabaptists would hold secret meetings at unexpected times and locations.  One of their popular meeting places was at this bridge known as the Anabaptist Bridge.  It is called "Täuferbrücke" in German and "Pont Des Anabaptistes" in French.  
Taken in 1918, his is the oldest photograph of the bridge that is still in existence.  The photo shows the aftermath of an accident when a rider and his horse fell from the bridge when the horse was spooked.  The rider (the man at the right of the horse) sustained minor injuries, but the horse was put down.
The bridge now has been replaced with a metal structure.  However, inscriptions still appear in the stone around the gorge, one dating from 1633.
Another meeting place was nearby in a cave called the "Täuferhohle".
For a time, the Anabaptists were being actively hunted.  Early on, their lives were in danger.  Sometimes, they could be forced into labor serving in the galleys of Venetian ships.  Later, they faced expulsion from their land and separation from their families.  It was very common that Anabaptists who were force to leave would find their way back, but they had to return in secret.
Recently, a hiding place was revealed in the barn of a farm called Hinter Hütten owned by the Fankhauser family for more than 12 generations.  Apparently, stories about the use of a hiding place on the farm for the purpose of hiding Anabaptists had been passed down for generations.  After much research, the house has now been turned into a museum.  It is referred to as "Täuferversteck".  The museum's website can be found at: